The Razors Cosmo addresses one of the biggest issues in freeskating: transfer of power. As most boots are made of a relatively flexible material, the frame tends to flex if attached directly to the boot. Razors solved this problem by attaching the frame to a soul frame, which is made of a super stiff material and distributes the power across the whole bottom of the boot. This results in a solid connection, from foot to wheel, helping you get the most from each and every stride.
The Cosmo comes with Razors new Instant Frame Changing System (IFC) allowing you easily replace worn parts and convert your freeskate into a hockey or aggressive skate in seconds. The Cosmo liner utilizes a thinner padding for better boot feel and control.  You'll be able to strap in nice and tight using our heel-retention ratchet and aluminum cuff buckle.  An aircraft grade aluminum frame and super high rebound 80mm/85A wheels serve up a smooth and effortless ride.
Features:
–          Full transfer of power
–          Instant Frame Changing system (IFC)
–          Replaceable slider on outside of boot
–          GC aircraft grade 6061 aluminum frame
–          GC 80mm/85A super high rebound wheels
–          Heel retention strap & ratchet buckle
–          Slim liner with articulated ankle support
–          Aluminum cuff buckle
The soul frame is the platform that's holding the boot and frame together. It's made of a super tough, fiberglass-reinforced Nylon plastic increasing the stiffness and responsiveness of the skate.  It also allows full transfer of power which is especially important when using bigger frames for recreation and speed. The one piece slider is made of tough, fiberglass-reinforced Nylon for superior strength, stiffness and durability. It also protects the outside of the boot and can be replaced in seconds if worn out.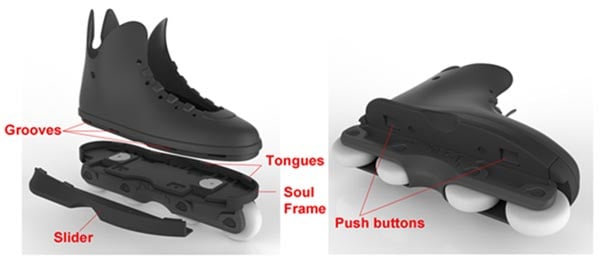 Razors Shift skates come with a patented instant frame changing system which allows the changing of frames and soul frame in seconds.  No need to take the frame off the soul, the frame remains attached to the soul using traditional UFS mounts.
Disassembly:
Push the labeled buttons on the underside of the soul frame, using the included allen wrench or other tool for more leverage, and move the slider towards the outside.  You can now easily take off the soul and frame.
Assembly:
Align the soul and frame with the boot and firmly push the inside of the soul frame onto the boot. Make sure that all 4 'tongues' are securely locked into the grooves of the boot.  Guide the slider onto the outside of the boot and soulframe, tongue to groove, until the both push buttons of the soul frame pop up. Make sure that all 4 tongues are interlocking with the grooves of the boot.
If your thinking about picking up a pair of skates and have some questions, feel free to give us a call at 1-800-772-2502, Monday – Friday, 9am – 5pm pst.